Increasing sales is always attractive for any business. But this does not happen overnight and requires knowing and following certain principles. In this article, we will talk about what is the science of selling funnels and what effect it has on your sales.
In a world where there are thousands of competitors for each product or service, finding a customer and selling a product has become much more difficult than ever before, and quality alone can no longer attract customers. Business and marketing science offers many ways to sell; The sales funnel is one of the hundreds of effective marketing methods that can lead to customer acquisition. Extensive advertising, digital marketing and hundreds of other methods are all designed to narrow the field of competition between businesses, and only those who follow the principled methods will win this campaign!
What is a sales funnel?
"Sales Funnel" is a term used in marketing and is a model for better understanding the sales process. The sales funnel includes all the steps and process of identifying the target to become a real customer. In the Sales Funnel marketing model, everything starts from a clue and eventually continues until you become a real and loyal buyer.
Let me give you a simple example:
Imagine the inlets and outlets of a funnel, although the inlets have a large capacity, but the outlets are much smaller. This is very similar to the marketing topics that every business has to deal with many people to offer its products and services. But very few of the target community buy products and services. For this reason, the name of the funnel has been chosen for this marketing model.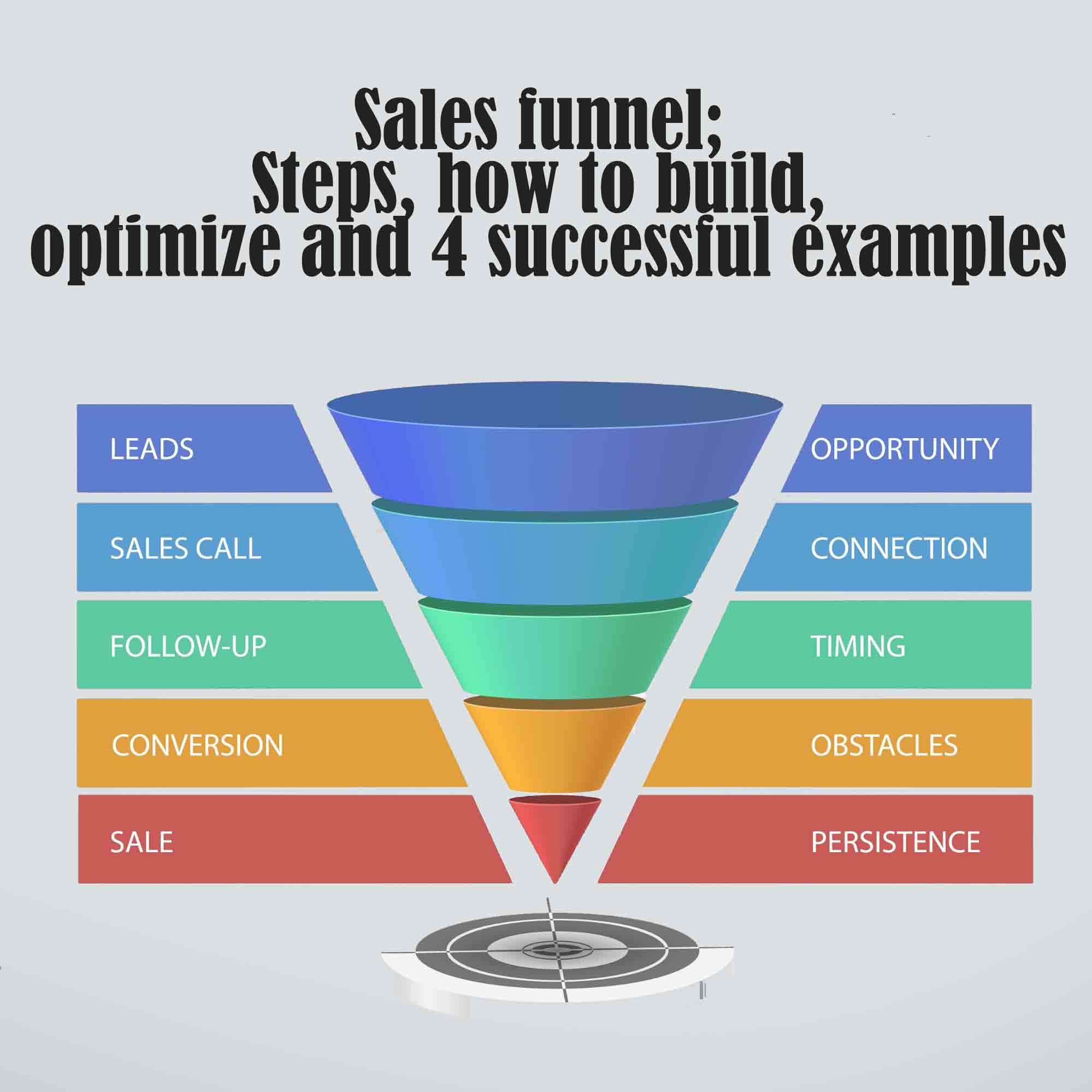 There are other similar terms in the marketing world that are derived from the same sales funnel. Examples include the Marketing Funnel or the Revenue Funnel. All these letters and models want to express the fact that the process from production to sales and revenue generation is difficult!
To get acquainted with Sales Funnel, it is better to first explain the terms related to it:
" Leads " means leads or people who are interested in business and services or products. – "
Prospects " refers to potential customers who have a high chance of being a buyer. " Customers " who are real customers and have bought goods or services.
In the sales process, we deal with three types of customers, starting from a clue and going a long way to becoming a real buyer.
It all starts with a lead or a clue! Anyone who responds to, or relates to, your ad, service, product, product, or business in some way falls into the category of "web visitors to Leads" which we think of as the larger opening in the funnel.
The second category, which is located in the middle of the sales funnel and is somehow filtered and has a smaller number of Leads, is in the Prospects category of potential customers who are likely to become real customers. At this stage, by filtering and passing through the filter barrier, a large number of customers stop buying to eventually remain the same customers who have passed through the narrow opening of the funnel, which are called real customers.
The ideal situation for a sales funnel is to be a sales cylinder, not a funnel! That means all the people who are clues become real customers.
If you are looking to build and run a sales funnel for your business, you have made a smart decision. But let me be friendly, do not look for a comprehensive and predetermined plan for implementation. Sales Funnel is different for each business. You can plan your sales funnel based on your knowledge of your business and the help of marketing experts. Here you can count on us
I and all my colleagues are at your service so that you can be successful in your business, even if you have our support for 3 months.
So far, we have talked about the science of funnel sales and its components. Now the question arises that what are the benefits of the science of funnel sales?! Read more I tell you
Advantages And Importance Of Sales Funnel In Businesses
– Identify the real customer
With this marketing method, you can separate your real customers from people who read your ad or entered your website just out of curiosity or need.
– Market forecast
The sales funnel allows you to measure potential and actual customers at each stage, and always monitor sales and, most importantly, predict the future market. You can measure your sales in each period and have an estimate of the future.
– Identify obstacles
By looking at the number of leads, potential customers and real customers in each period, you can identify barriers to marketing and sales and increase your sales by removing barriers.
– Effective marketing
Using the sales funnel, you can find out which neighborhood, city or country your customers are from and which areas you do not have customers from. So, you can use a better strategy for advertising and customer awareness and maximize the number of real customers.
– Identify customer tastes
If you pay attention, most people think and behave almost the same, which is why one thing becomes fashionable every time! The sales funnel helps to understand the tastes of the target community by examining the behavior of customers who have been attracted to your business and finding out what they like, and based on that, set up your next ads to attract more people.
Different models of marketing funnel over time
In 1898, an advertising activist named Elias St. Elmo Lewis introduced a general model called AIDA for the customer journey from the time of getting to know the brand to buying the product (without referring to it in funnel form). Slowly).
AIDA stands for four words, each of which represents one of the steps in Aida's marketing funnel. These 4 steps are:
1- Creating awareness: No one can sell the product to someone of which the buyer has no knowledge. You need to create awareness in your customers in the sense that you inform them of your presence and introduce your business.
After creating awareness in the potential customer, the continuation of sending the message has a very important role in determining the fate of the customer. In fact, by sending scheduled messages to the leads, you prepare them to receive the necessary information about your activity and the course of your business. This will increase the customer interest in your business and make the customer eligible for marketing qualification (MQL).
With activities such as marketing and advertising, enough information is conveyed to people in the target market. Therefore, this will increase people's awareness of your brand. Your contacts are now Aware. These are your so-called prospects. The more people who are aware of your brand, the more people will reach the bottom of the funnel. Among the potential customers in the market are those people who express interest in your service or product. Known as Lead.
Who is the Lead Customer?
Someone who is interested in our product or is in our large target market. This person is a clue. We deal with clues first and foremost, and we plan and advertise on them. These clues are either those who have shown interest in our products, such as those who have visited our site, or those from whom we have received email addresses and information at trade shows and are part of our target market. And are actually considered funnel inputs. In general, clues are a large collection.
When a person or persons are looking for a product or service, they visit a large number of booths or sites, so they are interested in a set of products by different manufacturers, but this customer still has the budget to spend the product or service. Who does not want to. Raghib customer is now evaluating, comparing and analyzing the desired product from different manufacturers.
The customer is willing to be qualified in terms of information
(IQL: Information Qualified Lead):
When an interested customer first expresses interest in your organization, they often provide their contact information for specific and useful information. This stage is located at the highest point of the sales funnel. At this stage, the customer is usually unaware of your strategies and competitive advantages over other similar products.
2- Creating interest
After creating awareness in the potential customer, the continuation of sending the message has a very important role in determining the fate of the customer. In fact, by sending scheduled messages to the leads, you prepare them to receive the necessary information about your activity and the course of your business. This will increase the customer interest in your business and make the customer eligible for marketing qualification (MQL).
Customer Eligible for Marketing Qualified Lead (MQL)
The MQL, or information-seeking customer, is fully prepared to take the next step. Now your customer is out of the information determination mode and this clue can be named as a semi-aware customer. If the MQL customer is at the beginning of the sales funnel, it is the marketing team's job to guide them to the next steps of the sales funnel.
Therefore, in the interest stage, the interested customer will be interested in your product and will provide you with his / her contact information. It is your job to discover what that is and to bring it about. For this purpose, MQLs should be contacted and offered a product or service. Finally, meet the needs, interests and expectations of the VIP by requesting a series of meetings and discussions.
These customers are ready to become your customer at any moment, but please do not show too much enthusiasm in the face of these people.
On average, 9% of interested customers convert to MQL.
3- Desire:
Being able to persuade a customer to buy will certainly not be an easy task. Apart from activities such as business storytelling, creative campaigns and creating clickable links for customers, you should also provide customer shopping experience and feedback to new customers. This is one of the most powerful ways you can get your MQLs to buy and become an SAL.
Sales Accepted Lead (SAL: Sales Accepted Lead)
An accepted customer in terms of SAL sales is a Qualified Customer (MQL) customer who has gone through all the previous steps and now has the necessary qualifications to become a customer according to the sales team. A qualitative ranking index should be used to evaluate these categories of leads.
Here, your sales team plays a key role. Your MQL list will definitely have errors that need to be corrected. In the MQL list, there are customers who may never use your product, so the need for these customers to be removed from the list and continue to work more purposefully. So in this part, the sales team, according to the indicators it has set, accepts some customers introduced by the marketing team and does not consider some of them eligible to be included in the product sales list.
On average, 50% of people on the MQL list go to the SAL list.
4- Action:
The action stage is actually called the purchase stage. That is, in most cases, the purchase must lead to action. If you have 100 leads that click on your offer and 10 people enter your sales funnel, if 2 of them buy, your conversion rate will be 2%. Now if you spent $ 200 to get these 100 leads and each customer brought you $ 300, then you got $ 600 for $ 200. And this is the most beautiful point of your marketing. But which of your customers reach SQL in SAL?
Customer Wants to Sell Qualified Lead (SQL)
The SAL list includes all potential customers, whether they already need your product or who may buy it years later. People who need your product later do not need to call and provide a pre-invoice now, so these people are not on the SQL list and the sales team contacts the rest of the people and tries to turn them into actual customers. At this stage, the list will be reduced by about 50%, all this will be done only for the sake of more effective sales.
Only 50% of customers are interested in SQL marketing certification.
But it turned out that the AIDA model does not work very well in all areas! You may ask, what was the problem with the Aida model?
Well, in the Aida sales funnel, your work with the customer is over as soon as he buys. If this is not the case. In this way, it is important for you to continue your interaction with the customer and turn him into a loyal customer. In fact, it is the strategy that drives the growth of your business.
This is why various marketing experts made changes to the classic model of marketing funnel to better cover the customer's buying path.
One of these models, which according to many experts is the most complete and ideal shape of the funnel, is the 5a model.
Get acquainted (gain, obtain) with present-day techniques that came from Marketing Funnel 5 !
Model 5A, compared to the traditional AIDA model, is closer to the path of today's modern customer. The buying behavior of today's customers has changed. They check social networks, are influenced by what their loved ones say, like online shopping, and may even share their shopping experience online. This growth of online space has made you need more than ever to retain customers and turn them into fans of your brand.
So, your relationship with the customer will not end at the end of a conical funnel; Conversely, you should continue this funnel and focus on customer retention after the customer has purchased.
In this case, if we continue the funnel, we get a bow-like shape.
The emphasis of the bow tie-shaped marketing funnel is on maintaining and maintaining customer relationships.
So, let's look at the benefits of doing this:
The cost of retaining a current customer is less than attracting a new customer.
The longer your relationship with the customer, the more profit you make.
Customers who buy from you (fans) for a long time will become free advertisers of your brand.
Fans will talk about you on social media as well as with their friends and acquaintances.
84% of people listen to the advice of friends or family about shopping.
Now let's take a look at the 5a model together:
It is the gateway to the customer's shopping path. Prospects are aware of your product or brand at this stage. Awareness can be the result of people searching for a problem, a need, a desire to do something, or a purchase
There are many ways to inform strangers. Including:
Advertising on social networks
Send bulk SMS
Video ads
Recommend to friends and family
Environmental advertising like billboards
Publish an ad report
How to measure the number of knowledgeable people?
Survey a sample population and generalize statistics to the entire market
Count the number of incoming users of the site
Search statistics of brand name or product in search engines
Count the number of users who visit ads
Experts talk about turning an ace sheet called WOW factor. WOW factor refers to the characteristics of your product that make the audience feel admired or excited. Note that the WOW factor can be different for each brand or business.
How to measure the number of people recruited?
At this stage, interested customers will register on the site and provide you with their email or phone number to download a file, provide a free eBook or any other action that is required.
These customers are called leads. The number of Leads at this stage indicates how many informed individuals have entered the second stage (i.e., absorption).
The more practical the audience action at this stage, the easier it will be to manage and attract them.
If we get complete information from the audience, understanding what they are looking for, what will satisfy them, what the shopping incentives are for them, and… will help a lot in moving to the buying stage.
These people are usually divided into two groups:
Close-up tips: Customers who share their personal and contact information with the brand. Such as site registrants, consulting applicants, product testers, targeted email newsletter marketing.
Interesting tips: Customers who have only shown interest in receiving more information. Like page followers, subscribers receiving notifications from the site or even downloaders of a file from the site.
Ask _
At this stage, the customer is looking for more information to decide on the purchase of your product or service, such as: inquire, read comments in the comments section of the site or Instagram page, and it is better for you that at this stage, from various online channels and keep in touch with the audience offline and be ready to answer their questions. You can also add more information to the content you think will help her make her decision.
Here, the customer gets complete information and wants to buy from you, and it is better to make the buying process as easy as possible for the customer.
You should not cut off your relationship with the customer after the purchase. It is better to get feedback from the customer and see if he is satisfied with your purchase or not, and do not forget to measure the people who have bought from you at this stage.
The customer will refer you to others for a good and memorable shopping experience and may buy from you again.
To maintain this good relationship and retain the customer, it is best to send them an email or text message containing valuable information, or even a special offer, from time to time, on various occasions.